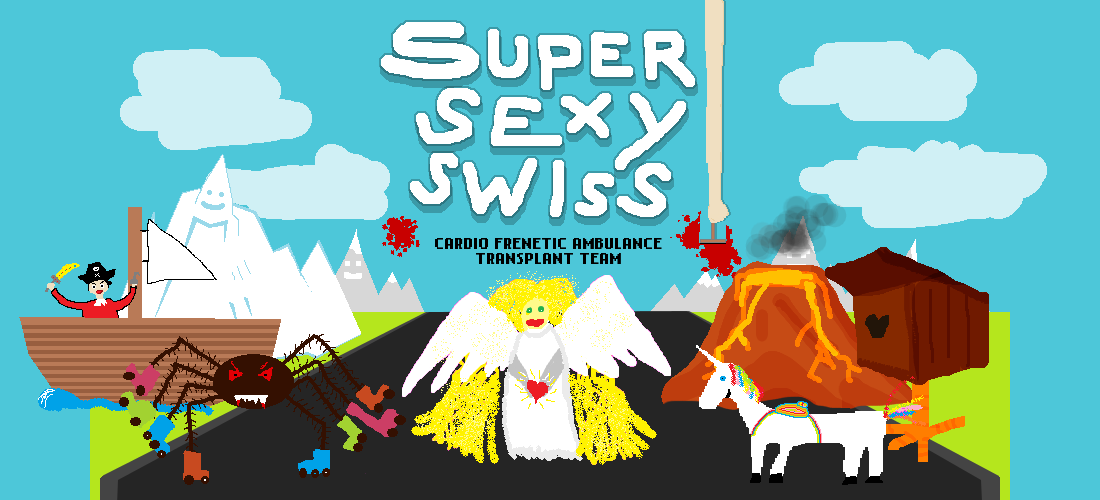 Super Sexy Swiss
A downloadable game for Windows
What's the mission of the S.S.S.C.F.A.T.T. - Super Sexy Swiss Cardio Frenetic Ambulance Transplant Team?
To deliver a living heart along with some MASSIVE FUN!
Controls
P1 steers the wheel to avoid volcanoes, unicorns and pirate ships, P2 massages the heart and P3 sweeps the blood off the windscreen - all of them sharing the same game controller.
Goals

reach the hospital (remaining kilometres display)
avoid loosing health (red progressbar)
give heart a massage according to graph (press SPACE at yellow markers)
avoid all obstacles, except the ambulance car
hit ambulance (red car with white cross) to gain a bit of health
avoid ANGEL OF DEATH, will kill you instantly
About
The base of this game has been created during Game Jam Prague, which was a part of the Global Game Jam 2013. The theme was "a sound of a heartbeat". We came up with a really idiotic idea – you are driving an ambulance, while consantly giving a massage to a heart meant for transplantation. The blood from the heart is squirting on your windscreen, that you have to wipe to see the road and avoid the obstacles. With such a brilliant idea, we had no other option than just to get make it happen.
Why Swiss? The ambulance should have been a white car with a red cross. We've got it mixed up and since the white cross on a red field is a flag of Switzerland - voilá, we've got ourselves the theme!
The Authors
S.S.S.C.F.A.T.T. is a joint project of Please Wait ( Syky & Moti ) and Jarnik.
We are a group of fellow indie developers, making games that we want to play.
Follow us: @Jarnik | @Syky | @Moti
Reviews & mentions
Featured obstacles:

iceberg
volcano
cake
Godzilla
UFO
unicorn
witch's hut
car
burger
angel of death
spider in boots
pirate ship
Superman
Download
Click download now to get access to the following files: